FilmStar. Preserving the Human Experience.
SCAN
-
35mm Academy/Super 2/3/4 Perf
35mm Negative/Positive/Reversal
16mm Regular/Super, 8mm Regular/Super
35mm (C-41/B&W) 4/8 Perf Stills
IMAGE -
Update 3/13: 35mm/16mm 25/30 fps 2K SPEEDS ARE HERE!!
2K 16mm @ 14 fps
1K 16mm/8mm @ 28 fps, 1K S8mm @ 25 fps
.5K 16mm/8mm @ 56 fps, .5K S8mm @ 50 fps
4K 35mm Super/Academy @ 5.5 fps
2K 35mm Super/Academy @ 11 fps
1K 35mm Super/Academy @ 22 fps
.5K 35mm Super/Academy @ 44 fps
.25K
35mm Super/Academy @ 88 fps
OUTPUT
-
Tiff 16/8 bit, Cineon 10 bit log
DPX 10/12/16 bit log/linear
QuickTime, AVI, WAV
Custom File Formats / Raw
Dust/Scratch Free Images!
FilmStar UHD Brochure Download
The FilmStar UHD Motion Picture Film Scanning system consists of a 2K/4K 35mm/16mm precision film scanner, a Host PC running Windows 7 for control/imaging/processing, and a high speed Fiber NIC connection to the customers' long term storage or SAN. The scanner, in its basic configuration, consists of a high resolution 4K camera such that 2K or 4K imaging is possible without any upgrade. 4K Scanning speed is at just under 6 fps while 2K scanning is at 11 fps but can now be upgraded to 25+ fps. By default, the system is delivered as a single format (16mm or 35mm) configuration with up to 1000' reel support, although a dual format 35/16 option is available with up to 2000' reel support and is usually desirable. A Hardware Option called MPR+ (Mechanical Perforation Recognition Plus) is available to allow the scanner to produce the most optimal results on shrunken and damaged film. The very nature of its dual format high resolution design along with the implementation of the MPR+ option enables the FilmStar scanner to precisely preserve old, damaged, and shrunken archival motion picture film.
FilmStar UHD Quality
Walde has spent over 2 years developing, designing, and ultimately delivering 4K UHD image quality that is comparable or better to our competitors. Below is shown a screenshot comparing Walde with FilmLight and Arri with respect to line pair resolution from 20 to 80 lp/mm (4000 dpi). Walde has a resolution edge over Arri - especially in the Blue channel - and is extremely comparable to FilmLight's NorthLight 2, which is a much slower system yet considered by many to be the benchmark in the industry for motion picture image quality. Comparisons with Image Systems' Golden Eye were also performed where Walde was clearly the leader in color registration, noise, and line pair resolution as well. Walde hopes to gain direct comparison from LaserGraphics and DFT's SCANITY but at this point, it is clear that Walde's FilmStar UHD must be considered when purchasing a 4K UHD motion picture film scanner.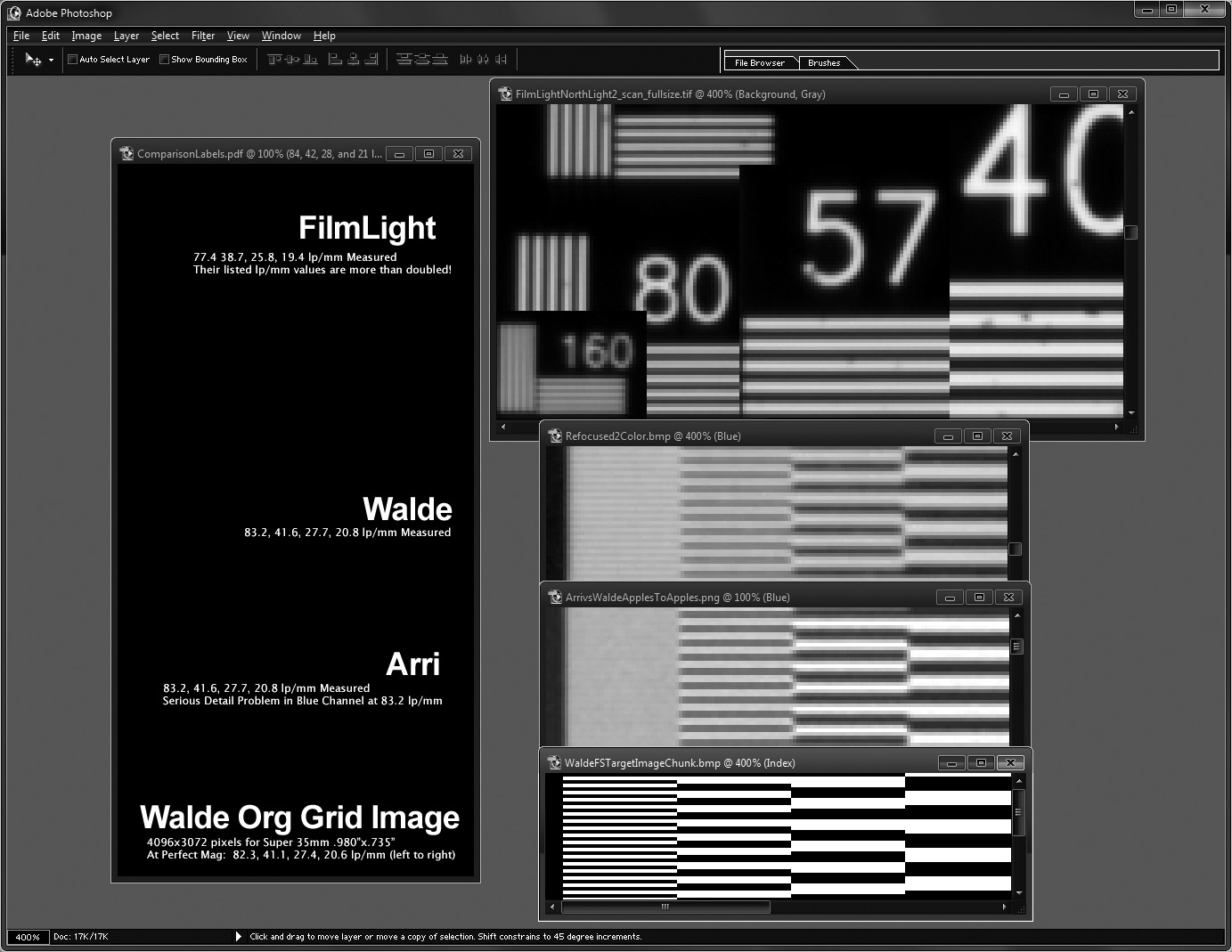 Film Scanners FilmStar UHD Product FilmStar 20K Pro Product Company News Support Contact